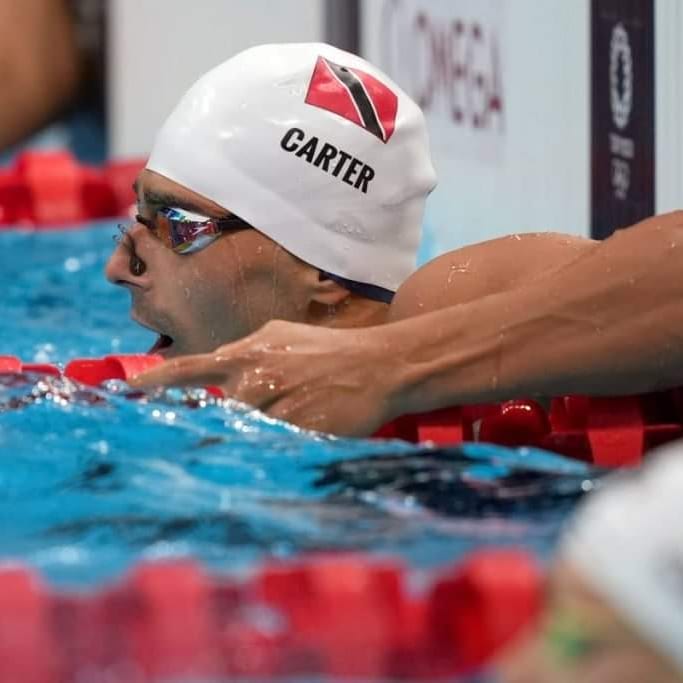 Dylan Carter, a 25-year-old Trinidad and Tobago swimmer, has bagged another medal, this time silver in the men's 50-metre freestyle event at the International Swimming League (ISL) in Eindhoven, Holland. 
Carter, who was representing London Roar, finished at second in 22.52 seconds, earning 6.5 points for his club. While Matteo Rivolta of Aqua Centurions also finished at second place with the same timing as Carter. 
Tom Shields of Los Angeles Current in 22.51 finished for the first position adding a total of nine points to his teams' score. 
On Saturday, Carter finished in a two-way tie for the second position with Toronto Titans' Italian international – Lorenzo Zazzeri, in the Men's 50-metre Freestyle (21.11 sec). While Carter's teammate – Kyle Chalmers, bagged a bar of gold in 21.10 seconds. 
Carter followed up this performance with a blistering anchoring leg in the men's 4x100m Freestyle Relay to see his London Roar splash to gold in 3:05.43.    
Prime Minister Keith Rowley and the citizens have congratulated Carter on his success and for bringing laurels to the island.  
More about Carter: 
He was born on 30 January 1996. Carter competed at the 2016 Summer Olympics in Rio de Janeiro in the men's 100-metre freestyle. Later in the year 2016, he competed at the FINA Short Course World Championships, where he made it to the final in the 200m freestyle and finished 4th. He also reached to the finals in the 50m butterfly, where he finished 7th position.
He also won the – silver medal at the – 2018 Commonwealth Games in the 50 m butterfly. Collegiately, he competed for the – the University of Southern California under head coach Dave Salo where he won 4 NCAA titles as a part of the USCs relay team.
At the – 2020 Summer Olympics in Tokyo, Japan and held in July and August 2021 due to the COVID-19 pandemic, Carter competed in four individual events. In the – 100 metre butterfly, Carter ranked – 33rd and set a new national record with his time of 52.36 seconds.