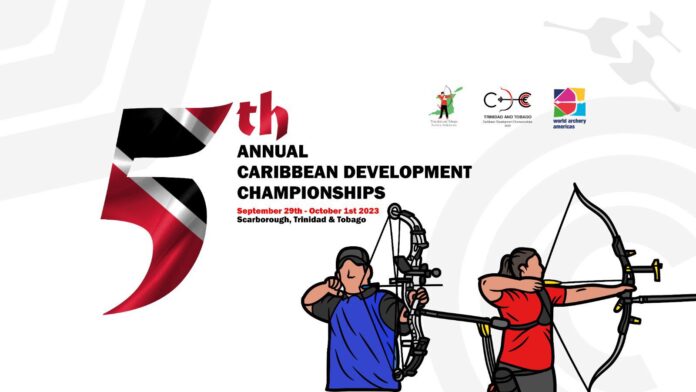 The Trinidad and Tobago Archery Federation ended The 5th Caribbean Development Championships (CDC) 2023 on a bang. The game was held from September 29 – October 1. The opening ceremony of the programme was held at the 'Dwight Yorke Stadium in Tobago!'
The opening ceremony of the program included a series of events mentioned below-
9:05 A.M- National Anthem
9:08 A.M- Prayer
9:10 A.M- Entry of Archers
9:20 A.M- Flag Displayed
9:30 A.M- Exit of Archers
9:40 A.M- TTAF President Hasmath Ali (Greetings and Welcome)
9:50 A.M- Secretary of Sports Address- Assemblyman Wayne Clark
10:00 A.M- Cultural Item (Dance piece) Division of Tourism, Culture, Antiquities and Transportation THA
10:15 A.M- Feature Address-Minister of Sports and Community Development-Shamfa Codjoe
10:35 A.M- Opening Arrow- By Minister of Sports and Secretary of Sports
Eleven nations were welcomed to the shores of their beautiful isles to show their skill on the line. The 5th iteration of the Caribbean Development Archery Championships was the biggest of them all so far, with over 170 archers competing in 45 categories.
'Minister of Sports and Community Development' Shamfa Cudjoe and 'Assistant Secretary of Sports Assemblyman Wayne Clarke received their Team TTO shirts at CDC 2023.
Hon. Shamfa Cudjoe- MO Tobago West attended the opening ceremony of the 5th Caribbean Development Championships. She delivered the feature address to all and shot the opening arrow.
Teams that participated in CDC 2023:
The Caribbean Development Championship, also known as CDC, is a fairly new event to the Archery Calendar. In this regard, the formal announcement was made as to the teams who participated in the CDC Games. The following are some of the teams who had arrived for the CDC 2023:
Team BVI
Team Curaçao
Scarborough Tobago
TTO shirts
Countries from around the region gathered for an annual tournament, which continues to grow.
Archery Guyana's team participated in CDC 2023:
Kaieteur Sports – 'President of Archery Guyana', Mrs Vidushi Persaud-McKinnon, at their recent Press Briefing and Team send-off, indicated that it gave her great pleasure to congratulate the participants on their decision to take their Archery shooting a step further. In this regard, the formal announcement was made as to the following persons who would travel to participate in the Caribbean Development Championship Games held in Trinidad & Tobago from September 29 to October 1.
Robert Singh
Saeed Karim
Bibi Salim
Karin Toppin
Richard Dookie
Nicholas Hing
Naresh Sukhu
Victoria Kum
Samira Duncan
Naudia Maraj
Alim Rasheed and many more
The list comprises 17 Athletes and five officials. Team Shirts were sponsored by Guyana Beverages Inc., Archery Guyana's loyal corporate sector.
The Board of Directors of Archery Guyana conveyed profound gratitude to their member, Mr. Samuel Arjoon and the management of Guyana Beverages Inc. for their continued support for the development of Archery in Guyana.
The Marketing Manager, Mr Collin Higgins, while delivering remarks on behalf of Guyana Beverages Inc., opined what a privilege it was to engage and collaborate with Archery Guyana on events like this. Oasis Water was taking the opportunity to develop talent in the sport.
Mr Nicholas Hing was announced as the Team Leader. Mrs Persaud-McKinnon took the opportunity to congratulate the Former President of Archery Guyana, Mr Mohamed Gamal Khan and Guyana's sole Continental Judge as of today's date for his service and representing Guyana.