Barbados: The government of Barbados has shared the list of public holidays for the upcoming year – 2023, as this year comes to an end. These public holidays will be celebrated as important and valuable traditions of the country.
The announced public holidays will often be celebrated with traditional activities and ceremonies, such as parades, fireworks, and other special activities. Some public holidays will be used to mark important moments in history, such as the end of World War II or the commencement of independence in the nation.
Public holidays will provide an opportunity for people to take a break from their regular routines and enjoy something special. They will also offer a time to remember the past and recall those who have made a difference in everyday lives. These public holidays will be proved as a time to show appreciation and gratitude.
According to the announced calendar by the Government of Barbados, the following Public Holidays will be observed in the nation for the year 2023:
January:
New Year's Day – January 2
Errol Barrow Day – January 21
February:
NIL
March:
NIL
April:
Good Friday – April 7
Easter Monday – April 10
National Heroes Day – April 28
May:
May Day – May 1
Whit Monday – May 29
June:
NIL
July:
NIL
August:
Emancipation Day – August 1
Kadooment Day – August 7
September:
NIL
October:
NIL
November:
Independence Day – November 30
December:
Christmas Day – December 25
Boxing Day – December 26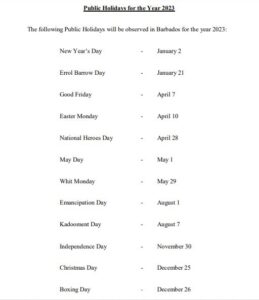 Furthermore, the government of Barbados has anticipated that the New Year will bring happiness as well as prosperity in the lives of people living not only in the nation but also across the globe. It also assured that it will continue to work in favour of the growth of the people and Barbados in 2023, taking the nation to all-new heights.