Kingston, Jamaica: Jamaica has copped the coveted award of the Best Culinary Destination in Caribbean at the World Culinary Awards Gala Ceremony 2023 which was held in Dubai, UAE at Atlantis The Royal on October 16, 2023.
This esteemed recognition stands testimony to Jamaica's vibrant culture, exceptional talents and its rich flavors.
The country was selected on the basis of votes polled by the general public and culinary industry professionals among other world leading brands. The contender with the highest votes in a category was adjudged the winner.
Rina van Staden- the Director of the World Culinary Awards congratulated each and every contestant for helping to uplift the collaborative benchmark of the eventful function to even greater heights.
She added that the winners of the prestigious World Culinary Awards showcased cosmic instances of excellence in the whole culinary industry.
Other Winners of the World Culinary Awards 2023:
There were many other countries selected to attend the Gala Ceremony who won in other category, such as-
Caribbean's Best Fine Dining Hotel/ Restaurant award won by the Stone Barn at Park Hyatt St Kitts Christophe Harbour.

The Barbados Food and Rum Festival won Caribbean Best Culinary Festival award.

Paris named as World's Best Culinary City Destination.

France topped as Europe's Best Culinary Destination.
World Culinary Awards act as a global initiative to recognize and acknowledge excellence in the culinary industry through annual awards programme. It serves as a sister event to World Travel Awards.
At present, World Travel Awards celebrating its 30th anniversary.
Jamaica : a culinary adventure
Jamaican cuisine has its roots in the island since British's Colonial Rule. Jamaican cuisine is a fusion of Indian, European and African influences which comprises of local spices and ingredients.
Jamaica is popular for its dishes like ackee and saltfish, jerk chicken and curry goat. Apart from meat, there is lot to experience in vegan food alike. The country offers a wide range of cuisine options right from street food to fine dining.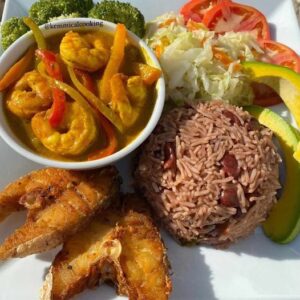 Recent awards won by Jamaica:
Jamaica won 33 awards during the World Travel Awards in August and marked its presence as a chief among them who were being named in the Caribbean's Leading Destination.

Jamaica was voted the Caribbean's Leading Cruise Port

Awarded for possessing the Caribbean's Leading Tourist Board

Won Caribbean's Leading Cruise Destination

The country honoured with the Caribbean's Leading Airport Award.