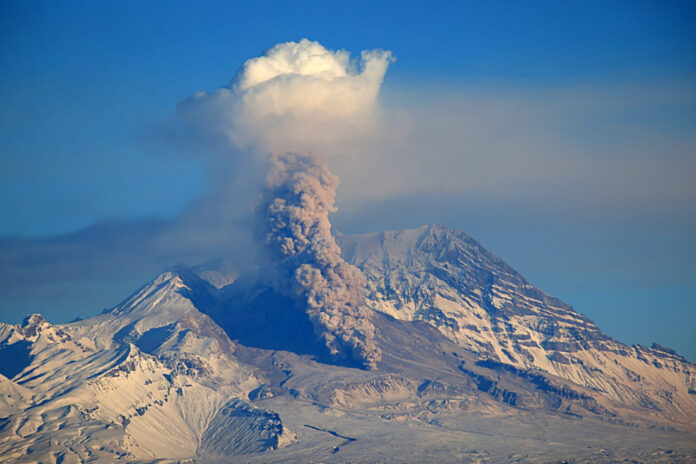 The Klyuchevskoy volcano in the northern region of the Kamchatka Peninsula, which happens to be one of the highest active volcanoes in the world, erupted on October 29th. Following this development, on the 1st of November 2023, mammoth columns of ash erupted from the volcano, covering the region in volcanic ash clouds.
This prompted authorities to close schools in 2 of the towns in the region to ensure the safety of their students. The Klyuchevskaya Sopka volcano's eruptions caused a 13 km high ash cloud to form which can cause serious problems in the region.
Despite the fact that no injuries have been reported, officials made sure that schools in Ust-Kamchatsk and Klyuchy were closed as a precautionary measure. Both these towns have a population of 5000 each, going by a rough estimate.
While Klyuchy sits about 30 km (20 miles) from the volcano, Ust-Kamchatsk is 50 km (30 miles) from the site of the eruption. One can easily assimilate from this information that the towns are far too close to the volcano and run the risk of an ash cloud descending upon them.
The volcano stands at 4,650 meters and released lava in June, having been active for the past few years.
The Kamchatka Peninsula, which is 6,700 kms to the east of Moscow and extends into the Pacific Ocean, is the home of many active and dormant volcanoes, geothermal springs and geysers.
This region is the hotbed of volcanic and seismic activity which makes the lives of the civilians living there, quite difficult. It is also pertinent to note that natural occurrences such as this one, often leave authorities in the region scrambling for solutions as they have to find ways to protect the citizens at risk.
As of now, no injuries or deaths have been reported and the authorities in the region seem to have a handle on the situation. Yet, one must be wary as the issue has not been resolved yet and further developments could complicate the issue.