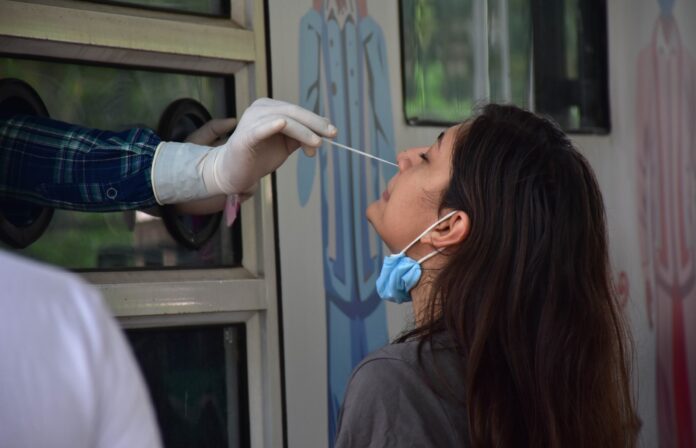 During the COVID-19 update press briefing, the National Epidemiologist of Dominica – Dr Shalauddin Ahmed, outlined that the island is witnessing a surge in symptomatic coronavirus patients.
He noted that the majority of new cases being reported includes individuals from the age group of 18 to 65 years.
The COVID-19 positivity rate in Dominica has also seen an increase, currently standing at 5 percent.
On Friday, November 25, 2021, the island recorded 45 additional new infections of coronavirus, taking the toll of active cases to 394, among which 235 are taking medical attention at the COVID Car Complex while 158 have isolated themselves at their homes.
Out of these new cases, 43 individuals tested positive by the Rapid Antigen Test, and the remaining two confirmed transmissions of the virus came through the RT-PCR test.
Furthermore, Dr Ahmed informed, to date, around 54 percent of the target population is vaccinated by receiving atleast one dose of the COVID-19 vaccine. In contrast, about 50 percent of the targeted Dominican population is fully vaccinated.
As per the statistics shared by Dr Ahmed, in total, 5434 individuals have been recovered from the deadly mutant since the COVID pandemic emerged in the island country, resulting in the deaths of thirty-seven patients so far. Among the deceased, there were 20 women and 17 men.
The Epidemiologist emphasized that around 95 percent of the COVID-19 patients who died were unvaccinated while encouraging the general public of Dominica to take their doses of the vaccine and get themselves immunized against the contagious mutant as soon as possible.
The citizens can contact the health officials at the provided hotline numbers for any help – (767) 448-2151, (767) 448-2153, (767) 448-2156, (767) 611-4325.
Caribbean comes among the regions that are highly impacted by the pandemic. Several other countries of the region, including Trinidad and Tobago, have been recording higher COVID infections for past few weeks.