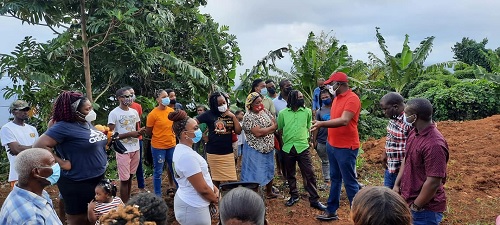 Roseau, Dominica: Prime Minister Roosevelt Skerrit visited the construction site of a multipurpose hard court in the community of Penville on December 9, 2021.
He said the hard courts would surely strengthen the sports sector of the island and would make a step ahead in the government's aim to make dynamic Dominica.
The prime minister wrote on a Facebook post and cited that, "A similar facility will be constructed in Vieille Case, and in Thibaud, the upgrades of lighting at the Playing field".
"I am delighted for our athletes. Let us embrace these facilities and make maximum use of them when complete," the post of the PM Skerrit further added.
The general public has expressed their happiness and appreciated the efforts of the government. Several individuals commented on the prime ministers' post.
One social media user stated, "Welcoming news for the folks in Penville. Meanwhile, Possie awaits their netball court. Patricia Brookes Star Ra Robinson Who knows we may see the return of the original Zicack Explosions and Chance Shockers!".
While the other user named Princess Nistaty commented, "I pray that your hard work and concern for the youths of the Vielle case constituency ( and others) will be rewarded by the youths gifted with these facilities by taking care of them".
Recently, the island received a gift of 22 Table Tennis (Ping Pong) tables from the People's Republic of China.
Earlier, in the month of June this year, Prime Minister Skerrit, along with the other high-rank officials, inaugurated 3 new sports courts at Windsor Park, Stadium in Roseau. Courts of volleyball, basketball, netball are included in the stadium.
This signifies the investment of the Dominican government in building and developing the sporting infrastructure of the island so that the youth can get better facilities.
Additionally, the Ministry of Sports is working along with the netball association so as to expand the coaching and exposure of sports at the national level.