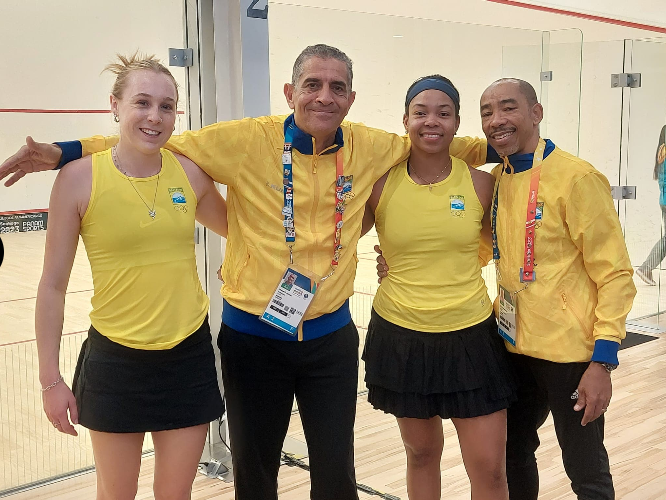 Bridgetown, Barbados: Barbados is glad to announce that their squash athletes named Meagan Best and Margot Prow showcased their incredible talents as they won a bronze medal at the Santiago 2023.
The athletes secured Barbados's first medal at the Santiago2023 Pan American Games in the Women's Doubles Squash event. 
The Barbados Olympic Association Inc. extended their heartfelt congratulations to both athletes for their achievements through their official Facebook handle. 
They further added that Barbados is immensely proud of their far-fetched talent and skills on the squash court as they acknowledged their achievement on behalf of Team Barbados.
Meagan Best
Meagen Best is a 21-year-old athlete who is a talented Barbadian female squash player. She is currently recognised as the leading squash player to represent Barbados at an international level.
She began her squash career after winning the Girls' U17 category, which was held at the US Junior Open Squash Championship in 2017.
An athlete considered the first squash player from a Caribbean nation to win a title of the US Junior Open squash championship.
Meagan became the first Barbadian squash player to qualify for the final round of an international squash tournament.
During the finals of women's singles in the 2018 Commonwealth Games, Meagen defeated Mihiliya Methsarani of Sri Lanka 3-1 and secured the plate title.
Margot Prow
Margot Prow is a renowned squash player from the Barbados. She has represented her country in numerous international tournaments, including,
– Pan American Team Championship
– Pan American Championship 
She recently secured a spot in Pan Am games by winning a bronze medal.
Squash in Barbados
Barbados is known as the Caribbean melting pot for squash players of all ages. Even during the pandemic, the Barbados Squash (BSA) was honoured with the resiliency award by the Barbados Olympic Association (BOA).
Notably, Barbados got their first World Masters Championship in squash.
Barbados hosts a strong level of junior players, and its junior national team won the silver medal at the Caribbean Area Squash Association Championships. 
Barbados was considered the first Caribbean country to develop a school program for squash, from which many of their national junior players have been explored.