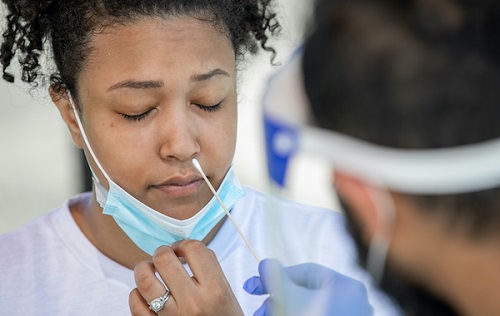 Bridgetown, Barbados: The Ministry of Health and Wellness of Barbados island nation is providing training for the individuals interested in working as healthcare personnel who will be assigned to carry out 'swab testing' at COVID-19 testing sites.
This training programme is part of the health ministry's attempt to support more comprehensive COVID-19 swab testing efforts, especially
seeing the current situation when coronavirus infections are rising in the island country.
The health ministry noted that the individuals who are interested in getting the training must have to show proof of valid CPR or First Aid
certification, and have an interest in working in the health care setting.
Expressions of interest with evidence of the required certification should be emailed to – info@health.gov.bb.
The Caribbean island has recorded additional 291 cases of the COVID-19, comprising 150 males and 141 females, on October 23, 2021.
So far, the island has reported a total of 15,341 confirmed cases of the deadliest mutant, according to the health ministry's report till October 24, 2021. Out of the confirmed coronavirus cases (7436 males and 7905 females). The public health laboratory has performed 374857 tests.
As per the report, there are 794 individuals who are in isolation facilities, and 4514 people have isolated themselves at their homes. Two additional death have been recorded, taking the total number of COVID related deaths to 130.
If the citizens have any queries regarding the COVID-19 update or vaccination, they can contact at the following numbers – 536-4500 or 536-3865.
Prime Minister – Mia Amor Mottley, along with the health ministry, is urging the citizens to abide by the COVID-19 protocols/measures such as – wearing masks, sanitizing frequently and maintaining a social distance.