Saint John. Antigua and Barbuda: Antigua and Barbuda is a land of constant tropical temperature. The island looks more beautiful during the winters when the cool air blows down to the Caribbean from the north.
The temperature in Antigua still levels around the mid-70s, and during summers, it climbs to the 80s. The best time to visit Antigua is winter through spring. The nation showcases various resorts where one can escape the winter blues to paradise.
Hermitage Bay Antigua is one of the luxurious all-inclusive resorts.
Hermitage Bay Resort
Hermitage Bay is a luxury boutique resort that snuggles on the hillside on the sandy bay, where the whiff of fragrance fills the air. The sound of waves rolling on the shores soothes the soul.
The resort is located on the west of the island on the Hermitage Bay Beach.
Suites: Hermitage Bay Resort
Hillside Pool Suites
Hillside Pool Suites nestled high in the hills amid of tropical, lush gardens and showcase the unbeatable panoramic views of the Caribbean Sea.
It is styled with soft linens and dark woods and filled with the fragrance of flowering plants which shadow the nearby plunge pool. These tranquil extend a secluded space to unwind and relax.
Each suite consists of a roll-top bath, a minibar and an outdoor shower. It provides a voluminous private decking complete with a double day bed, plantation chairs and sun loungers.
People may spend their holidays drenching up the sounds of the ocean and night staring at the stars.
Features:
Minibar restocked daily
Private pool
Sea and garden views
Champagne
Beachfront Suites 
The split-level Beachfront Suites stretched the length of the beach and were located near to the white sandy shoreline and the bay's turquoise waters.
Every one of these suites is beautiful and bright, which showcases the magnificent interiors and provides non-disturbed views of the nearby oceans. It offers a luxurious outdoor shower, a private shady decorated area consisting of a double day bed, chairs and a mini bar, which is restocked on a daily basis.
Features:
Sea and garden views
Balcony
Minibar
Champagne, pastries and fresh fruits on the arrival
Seaview Garden Suites
The suites are covered by lush greenery and are located in between the Garden Spa and Beachfront Suites.
The suites consist of elegantly decorated interiors, a private sheltered dining area with a double day bed, outdoor shower and plantation chairs.
One may find a lounge, pool and restaurants near to these suites.
Features:
Garden views
Minibar
Balcony
Fresh fruits, pastries and champagne on arrival
The resort offers an authentic Antiguan dish featuring freshly caught seafood. There are enough vegetarian and vegan dishes to try.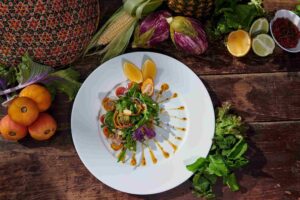 The resort owns an organic kitchen garden where one can have the true taste of the Caribbean.