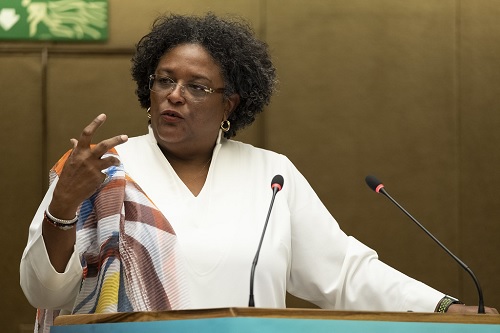 Bridgetown, Barbados: Another tranche of 70,200 doses of the Pfizer vaccine has arrived in Barbados on Thursday from the government of the United States.
The donation arrived on a DHL Express cargo flight that reached the Caribbean island at the Grantley Adams International Airport before 10:00 am yesterday.
On the arrival of this shipment, the US Ambassador to Barbados and the Eastern Caribbean, Linda S Taglialatela, asserted that "In the month of August, the United States donated around 70,200 Pfizer vaccines free of charge. And here we are again, donating – 70,200 more. No other nation in the world has provided Barbados with this level of assistance".
He further emphasized the significance of taking vaccines, noting that vaccines have helped the world defeat smallpox, protected millions of people from measles and polio, and only vaccination is the sole fastest way to eliminate the deadliest COVID-19 outbreak.
While the Prime Minister – Mia Amor Mottley, appreciated and thanked the Joe Biden administration for the donation of the COVID-19 vaccines highlighting that this donation is a result of the discussions she had with the US Vice-President Kamala Harris last month.
Prime Minister further asserted that as there is an increase in the vaccinated Barbadians, the government will ease the COVID-19 restrictions, including the curfew timings.
According to the statistics, there are 148,757 individuals of the Caribbean island who are atleast vaccinated with one dose that is around 51.8 per cent of its population, while around 126,355 individuals have received their required number of doses and are now fully vaccinated against the contagious virus which is around 44 per cent of its population.
This shipment will assist in the target of herd immunity of the Caribbean island nation. The United States donated these vaccines under its pledge to support the world in its fight against the COVID-19 outbreak.