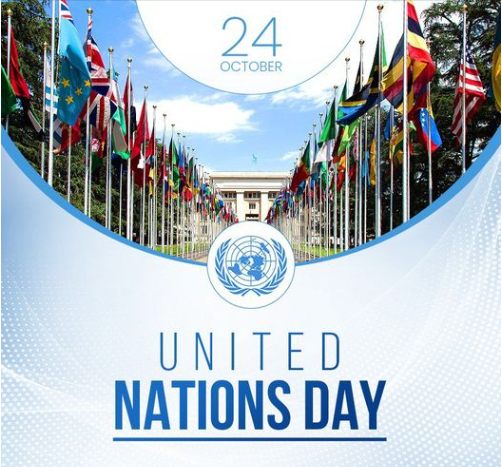 Trinidad and Tobago celebrates United Nations Day on October 24, 2023. The country has shared its diplomatic relations with the United Nations for more than 50 years.
The United Nations has supported the Government of Trinidad and Tobago for many years and offered development assistance to ensure that the agenda of Sustainable Development would be fulfilled by 2030.
The UN provides every possible help and support to the people of Trinidad and Tobago to achieve the Sustainable Development Goals (SDGs).
Currently, there are nineteen UN agencies serving Trinidad and Tobago. Some of them are-
UNICEF/ United Nations International Children's Emergency Fund
PAHO/WHO/ Pan American Health Organization/ World Health Organization
UNESCO/ United Nations Educational, Scientific and Cultural Organization
UNODC/ United Nations Office on Drug and Crime
ITU/ International Telecommunication Union
WFP/ World Food Programme
UNIC/ United Nations Information Centre
UN WOMEN/ United Nations Entity for Gender Equality and the Empowerment of Women
UNFPA/ United Nations Population Fund
UNEP/ United Nations Environment Programme
FAO/ Food and Agriculture Organization
UNLIREC/ United Nations Regional Centre for Peace, Disarmament and Development in Latin America and the Caribbean
The UN partnership with Caribbean Countries- The United Nations, along with Caribbean countries, work on the achievement of sustainable development goals, which focus on ensuring that no one is left behind in its national development.
The priority area of the UN MSDF is to safeguard the collaborative commitments reflected in the human rights conventions and treaties towards the progress of SDGs.
A Healthy Trinidad and Tobago: Priority areas is to introduce policies, law and such system that will support healthy lifestyles among the different segments of the population.
An Equitable, Inclusive and Prosperous Trinidad and Tobago: To increase access to quality education and lifelong learning, which will enhance sustainable economic development and employability.
3. A resilient and sustainable Trinidad and Tobago: To establish such policies and programmes which will reduce disaster risk and climate change adaptation. There is a need to adopt inclusive and sustainable solutions for the restoration, conservation and use of natural resources and ecosystems.
4. A Cohesive, Safe and Just Trinidad and Tobago: To strengthen the capacities of public policy, civil society and rule-of-law institutions, which will give equitable access to protection, security, justice and safety.
United Nations Day marks an excellent journey to maintain cooperation and global harmony. The occasion gave an opportunity for people across the world to come together and applaud the achievements of the United Nations.
After World War II, 51 countries across the world came together to take a pledge to preserve peace and cooperation across the globe.