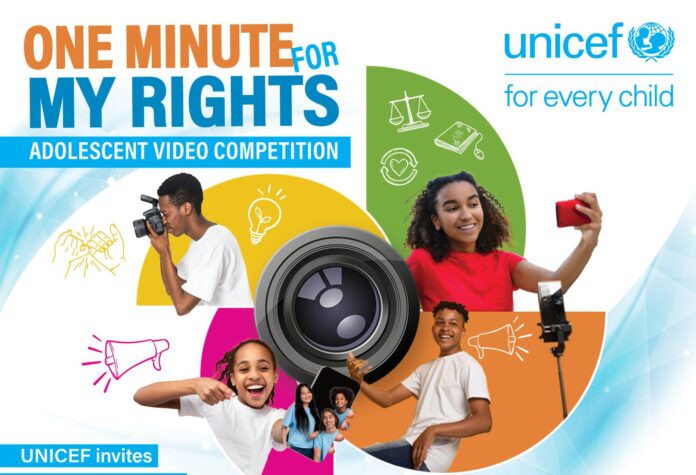 UNICEF Eastern Caribbean, also known as United Nations International Children's Emergency Fund Eastern Caribbean called all the teens of the region to come forward to participate in the video competition on children's rights. As per the details, the shot video must be of just 60 seconds.
According to the official update shared by the organisation, the children of the age group between 12 and 17 are eligible to participate in the contest.
Through its official Facebook handle, UNICEF Eastern Caribbean also shared the details about the registration in the competition. "It's simple! Create a 1-minute video – discussing the importance of children's rights in one of the six themes and upload your video via U-Report's WhatsApp," it noted.
October 20, 2023, has been selected as the deadline to register for the competition.
In addition to this, the organisation also shared the links to read the rules and entry guidelines:
Instructions for Entering:
Along with all the details, UNICEF Eastern Caribbean also shared a flyer which informed the interested candidates about some of the basic instructions for entering the contest.
The shared instructions are as follows:
1. Create your video based on any of the following themes:
– Dignity and a fair chance
– Survival and development
– Education
– Protection from violence
– Participation
– Climate Action
2. Videos should be recorded in vertical mode
3. Videos should be no longer than 1 minute in length
4. Videos should be recorded in a well-lit area
5. Audio should be easily heard and understood
6. Submission must be made via U-Report – Eastern Caribbean Area Vocal Matters.
Prizes:
According to the update by the organisation, the top three video makers will be awarded exciting prices. The prizes listed by the UNICEF Eastern Caribbean are as follows:
First prize – iPhone 12
Second prize – iPad 10th gen
Third prize – Acer Aspire 5 laptop
UNICEF Eastern Caribbean is known to manage and host such competitions to increase the engagement of adolescence in productive as well as fruitful activities. Focusing on the growth and development of the young population, UNICEF is also known to share videos as well as graphics which will inform the general audience about some basic topics, such as positive parenting, climate change and employment opportunities across the region.
In this regard, UNICEF Eastern Caribbean highlighted the ways and actions which should be followed by every parent or guardian. "Positive parenting can go a long way to prevent and address abuse in your community," the organisation outlined.
The actions are as follows:
– Believe your children
– Speak kindly to your children
– Don't discipline in anger