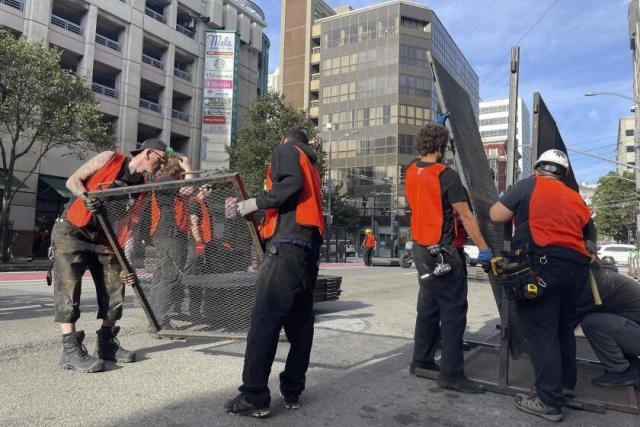 San Francisco is preparing to host Chinese Premier, Xi Jinping, as he is scheduled to arrive in the United States of America for the Asia Pacific Economic Cooperation (APEC) summit this week. The summit will allow President Xi and President Joe Biden to schedule a meeting which is being seen as a monumental development, considering the escalation of tensions between the two nations, especially with regard to Taiwan.
Concerns and criticism regarding the preparations began flooding in as the Moscone Center, set to host the 21 member states of APEC, underwent the installation of black metal fences and barricades.
Further criticism was levelled at authorities when observers pointed out that the city's mammoth homeless population has been cleared for the summit.
One social media user had this to say on the matter, "The government can easily fix our cities overnight. It just doesn't want to."
Other accounts on social media platforms have questioned as to why the United States government is using the money of its tax payers to protect a communist leader, while clearly suppressing the voices of its own citizens.
Credible allegations have also stated that the barricades have been placed quite strategically to prevent public protests around President Xi Jinping's official motorcade. Reports also suggest that homeless people who seek shelter in the vicinity of the APEC summit venue have had their encampments removed.
It is being said that this has been done to maintain a secure zone for the dignitaries who will be arriving to San Francisco.
Critics have hit back at the notion, reminding authorities that San Francisco is a democratically run city. Others have sited Representative Nancy Pelosi and other such "woke" politicians who stood firmly against building a wall to separate the United States and Mexico physically.
The logic being that they are now complicit in segregating citizens with in their own nations, a far more heinous approach.
The social media account "Asians Against Wokeness" said, "Woke liberals fear/respect Xi Daddy more than their fellow Americans. Soft core authoritarians fear/respect hardcore authoritarians."
The Mayor of San Francisco has attempted to divert attention from the issue by highlighting the fact that hosting APEC would bring a projected $50 million worth of benefits to the city. The event is also seen as a great way for the United States and China to maintain a dialogue between the two nations, discussing a myriad of issues.
White House Security Advisor Jake Sullivan made it clear that President Biden is looking to use this opportunity to reestablish links between the military arms of the two nations. This is being undertaken to avoid miscommunications with regard to the Indo-Pacific region, where the two nations are at loggerheads due to their various clashing interests.