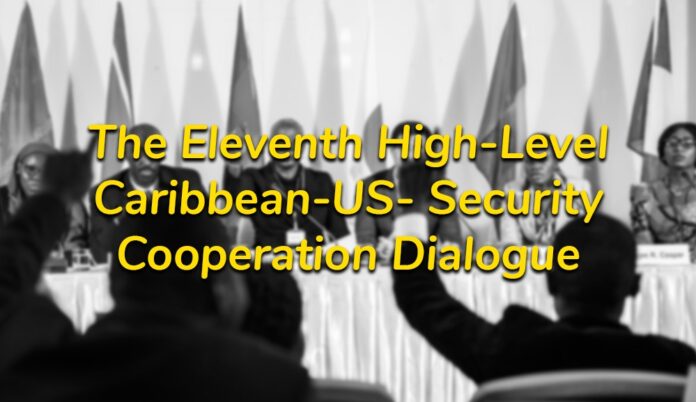 Castries, Saint Lucia: Saint Lucia hosted the Eleventh High-Level Caribbean-US- Security Cooperation Dialogue to enhance cooperation on regional security challenges.
The US and Caribbean officials convened the Dialogue, which was co-chaired by the United States, CARICOM and the Dominican Republic on November 16, 2023. 
Mr Daniel Erikson- Defense for Western Hemisphere Affairs, represented the Department of Defense in the meeting.
This forum is held annually under the patronage of the Caribbean Basin Security Initiative (CBSI) and the Caribbean United States Framework for Security Cooperation to review the progress under CBSI and set CBSI priorities for the following year.
It is to be organized to strengthen the collaboration to overcome their shared security challenges.
Key takeaways of the meeting
The annual Dialogue, which took place in Saint Lucia, held the discussions centred on Caribbean cooperation to address the following,
– Counter transnational organized crime
– Strengthen maritime security 
– Firearms trafficking
– Prevent youth crime and violence
Notably, the Dialogue included Caribbean regional and national-level efforts to point to irregular or dynamic migration, trafficking in persons and suggestions for further progress.
The delegates who were present in the meeting unanimously adopted the joint dialogue statement, which scheduled out the Caribbean and US priorities for security cooperation through CBSI for the next year. 
Therefore, the collaborative statement also welcomed the authorization under Chapter VII of the UN Charter of a Multinational Security Support (MSS) mission in Haiti.
The Kenyan Parliament recently approved the distribution of a thousand police officials in Haiti to support the Haitian Police.
This decision was made amidst concerns about the country's security situation and extreme gang violence.
It is to be noted that this forum provides a mechanism to discuss strategic-level security issues and explore the forthcoming cooperation activities in the areas of defence and security.
The Department of Defense's substantial engagement with the Caribbean partners exemplifies their commitment and dedication to fostering relationships and addressing shared interests and threats.