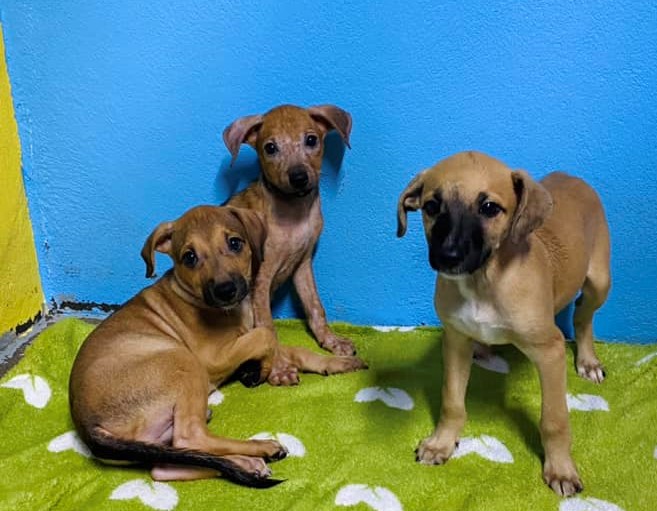 Saint Lucia: HelpAWS, the animal welfare organisation of Castries, recalled the puppies who were rescued from a pile of rubbish nearly a month ago. As per the organisation, around two (2) litters of puppies were saved, but unfortunately, the volunteers would able to catch some of them. They furthermore expressed that promises were made and they would be back to get the rest. "Who knows how these three young babies survived the last month on their own? It's sad to think of them out there alone, trying to get through each day without the safety of a home or the nourishment of healthy meals," it informed.
Animal welfare also informed that regardless, the volunteers are so relieved and happy that they are finally here with the organisation, where it will be ensured that the pups are safe, loved, and starting their journey to a better life.
Although the environment these pups were living in was dangerous, to say the least, they appear to be in relatively good health, with the exception of one of the boys, who is suffering from mange and has several bald spots and scabs on his little face and body. The organisation has anticipated being able to reunite them with their siblings once they have gone through the quarantine period and are healthy enough to be reunited.
It also stated that most of the pups brought by them have come from squalid conditions and adversaries, and having to fight to survive is the only thing they've ever known- change can be hard, even if it's a change for the better. These three puppies are timid and nervous, as are most that come to the shelter because kindness and safety are completely new to them.
The post by HelpAWS stated, "Knowing this, we gently love them into acceptance of their new, better life, and it never takes long for them to acclimate. These three will very quickly realise this is the life they deserve to live all along!"
While inviting the public for adoption, the organisation said, "With the shelter so full of needy pups and way more coming in than being adopted, we are desperately in need of donations to help offset the cost of their care. If you're able, donations can be sent to donate@helpaws.com using e-transfer, PayPal or Zelle or to @helpaws using Venmo. We truly appreciate the generosity and support as we work to build a better future for these little ones and all companion animals here on the island."