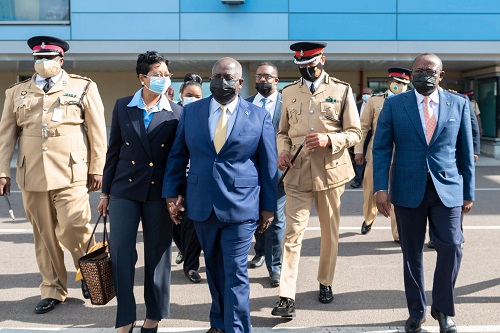 Nassau, the Bahamas: Prime Minister Philip E. Davis left the Bahamas to Dubai, United Arab Emirates, to visit Expo 2020. The Prime Minister will be engaged in high-level talks on the technology and as well as the environmental issue of climate change, significantly focusing on economic growth. 
PM Davis will also be meeting prospective investors to hold discussions on several areas of mutual interest. The Prime Minister's visit will coincide with the celebration of Bahamas National Day at the Dubai expo on Monday, January 17th, 2022.  
Meanwhile, several other leaders of the Caribbean countries have already visited the Dubai EXPO 2020, which commenced from October 1st 2021 and will be open till March 31st 2022. This years' title of EXPO 2020 is "Connecting Minds, Creating the Future".  
More than 100 nations across the globe participated in Dubai EXPO 2020 and are showcasing their unique culture, history and technology. 
The Director of Communications Latrae Rahming on the Participation of The Bahamas in Dubai's World Expo asserted in an issued statement, "This is for the first time that the Bahamas is participating in the Expo 2020".
He further informed that a colourful cultural showcase would be witnessed by the spectators on the National day of the Bahamas at the EXPO 2020. 
In addition, while speaking during the 31st Annual Bahamas Business Outlook on Thursday, January 13th, 2022, the prime minister cited that the private partnerships & investment in Orange, Blue and Green economies as essential in moving the Bahamas forward. The outlook took place virtually. 
Meanwhile, speaking on the theme of "Beyond Recovery into Growth," the Prime Minister underscored that while the government has appointed a debt management committee and also established a revenue enhancement unit, the private sector must also be dynamic in its efforts to promote financial resilience and stir economic growth throughout the archipelago.