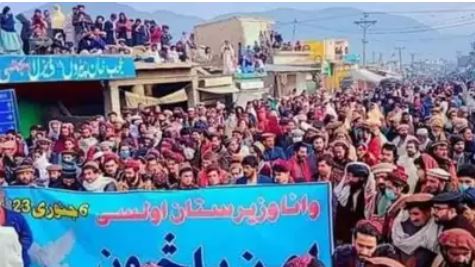 Pakistan: The large-scale protest against terrorism and lawlessness in restive South Waziristan in northwest Pakistan continues, with protesters blocking all traffic on the Wana-Razmak road for the second day, according to India-based Asian News International (ANI).
South Waziristan residents region staged massive protests and chanted slogans against a rise in terrorism in the tribal district, according to The News International newspaper.
Protests were held in Wana's Rustam Bazaar. Protesters included members of the Pakistan Peoples Party (PPP), the Pashtun Tahafuz Movement (PTM), the Awami National Party (ANP), the National Democratic Movement (NDM), Jamaat-e-Islami (JI), and the Pakhtunkhwa Milli Awami Party (PKMAP).
In addition, civil society organisations, lawyers, traders, and members of the general public attended the rally to show their support.
Protesters carried banners as well as placards demanding that the government play a role in maintaining law and order in Khyber Pakhtunkhwa, particularly in the merged tribal districts.
They also chanted slogans condemning the increase in terrorism in the region and urging authorities to take action to improve the region's deteriorating law and order.
Assistant Commissioner Wana, Yasir Salman Kundi, told reporters after meeting with protesters that their demands were genuine. He went on to say that the district administration was working hard to meet their demands under the 10-point agenda.
Kundi stated that no effort would be spared to restore peace.
These protests came amid an increase in militancy across Pakistan after, on November 28, 2022, Tehreek-e-Taliban Pakistan (TTP) called off its ceasefire agreement with the government. They directed its militants to stage attacks across the country.
According to an Islamabad-based think tank, the year 2022 ended with the deadliest month for security personnel of Pakistan in over a decade, with TTP emerging as the country's biggest threat.