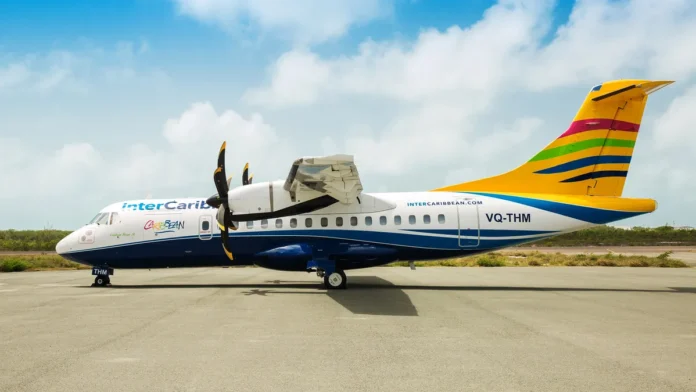 InterCaribbean Airways have been making news recently, with the acquisition of a Bombardier CRJ700 series aircraft and plans to collaborate with the Grenada government to boost employment.
An update issued by Grenada's Ministry of Legal Affairs, Labour and Consumer Affairs, stated that a highly simplified recruitment process has been initiated for the benefit of candidates. Interested candidates are required to submit their resumes by September 20, 2023 and await confirmation.
The link to be used has also been provided (Hr@intercaribbean.com)
The statement continues to say that interCaribbean Airways and the government of Grenada are collaborating by way of this program to offer employment to citizens. An employment drive has also been organized on September 27 and 28, at the Radisson Resort Greenery Room in Grand Anse, St George.
It is also important to note that interCaribbean airways are expanding their reach in the region and setting up Barbados as their central hub and base of operations.
In the process of doing so, the airline is actively seeking new employees who can help enhance the company's presence, serve various roles and strengthen ties to the region by being more involved with local communities.
The airline was also verbally appreciative of the role that the government of Grenada has played in helping interCaribbean airways realise its objectives. The employment drive, which will benefit many Grenadians, is a part of the same initiative.
The event will be conducted in two different sessions on each day. This will help ensure optimal participation. The morning session will be conducted from 9 am to 1 pm and the afternoon session will begin at 3 pm and run till 7 pm.
The following positions have been made available for candidates:
Maintenance Planning Engineer
Maintenance Control Supervisor
Maintenance Control Centre Officer
Fleet Engineer
Technical Record Technician
Maintenance and Compliance Auditor
IT specialist
Marketing Specialist
Flight Attendants
Customer Service Manager with (Airline experience)
Customer Service Station Manager (Airline experience)
Customer Service Agents
Security Guards
Ground Service Equipment Mechanic Manager
Ground Service Equipment Mechanic
Lennox Andrews, Grenada's Tourism Minister got in touch with the CEO of interCaribbean airways recently, and is part of the team which has facilitated this program for the people. In a statement regarding the same he said the following:
"Grenada is replete with skills in diverse areas, and as a government, we seek to provide an enabling environment in which the talents of our people can be showcased and through which they can earn viable career opportunities. We are proud, as a government, to partner with interCaribbean Airways in a meaningful way, to provide professional pathways and livelihoods for citizens, and, in the process, deepen the ties between Grenada and the airline, as we both endeavour to see seamless travel experiences for the people of the region."
Trevor Sadler, the CEO of interCaribbean airlines, also voiced his views on the program and its significance, "This initiative reaffirms interCaribbean Airways' commitment to leveraging the expertise and talents of Grenadian individuals and integrate them into the airline's expanding operations. The growth of any local workforce not only contributes to regional development, but also enables interCaribbean Airways to provide more efficient and enjoyable travel experiences for customers in the Southern Caribbean."
That is not all that interCaribbean airlines have been up to though. The premier air service in the Caribbean has also made a significant addition to it aircraft inventory by bringing in a new Bombardier CRJ700 series.
This is indeed big news as the aircraft is a twin-engine jet aircraft seating 70 customers. It also boasts of added range capability, onboard bathroom and two flight attendants.
As mentioned before, this is a part of the airline's ongoing drive to expand the services in the region significantly.
The aircraft also has 2×2 seating, added cabin height and overhead bins on both side for the most comfortable configuration possible in the segment.
The aircraft has been operational since September 18th, 2023, after arriving in Providenciales on September 17th, 2023.