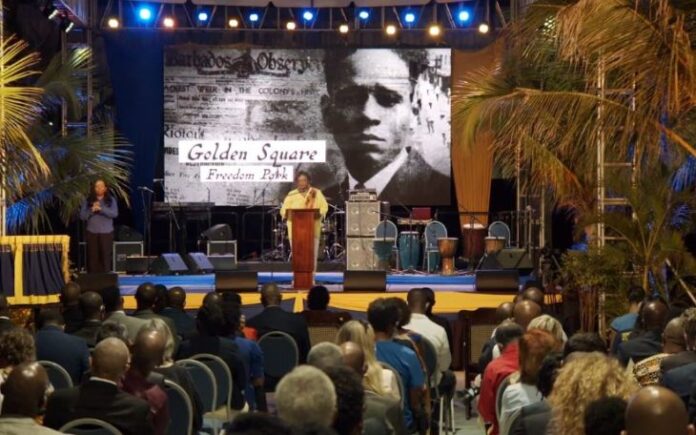 On Saturday afternoon, the Prime Minister of Barbados – Mia Amor Mottley, officially opened the historic Golden Square, Freedom Park. 
The two-hour opening ceremony included cultural and colourful performances. 
Apart from the prime minister, President-Elect, Governor General Dame Sandra Mason, Chief Justice Sir Patterson Cheltenham, Opposition Leader Bishop Joseph Atherley, and Members of Cabinet, among other dignitaries, were present in the opening ceremony. 
"As we look around, let us enjoy the beauty. As we move, let us bring our children here to learn, and as we build, let us remember that this too will be a living piece of park and space for those working, living, reflecting, playing in Bridgetown," she cited while addressing the general public at the event.  
On the other hand, the founder of – Clement Payne Movement and CARICOM Ambassador – David Commissiong cited that the opening of the Freedom Park is 'a great day' for him personally. 
The founder stated, "Brothers & sisters on the 21st of July 1937, the Right Excellent Clement Payne delivered one of his most important public speeches right here in Golden Square. As per usual, police spies were in the crowd and they made a written record of Payne's words". 
"And here is how Clement Payne ended that historic speech 84 years ago. And I quote, 'I am going to make this spot the mecca of the organisation on this island. Bad things have been said about Golden Square, but I have found my services better appreciated here than elsewhere in this island," following the statement, the founder added. 
While, the health minister and Member of Parliament for The City, Lt Colonel Jeffrey Bostic, expressed his gratitude to PM Mottley for keeping her promise to transform the sacred place. 
"Whilst the journey has been long, & the road has been winding, I am sure that we all agree it was worth the time and the effort," Minister Bostic cited.