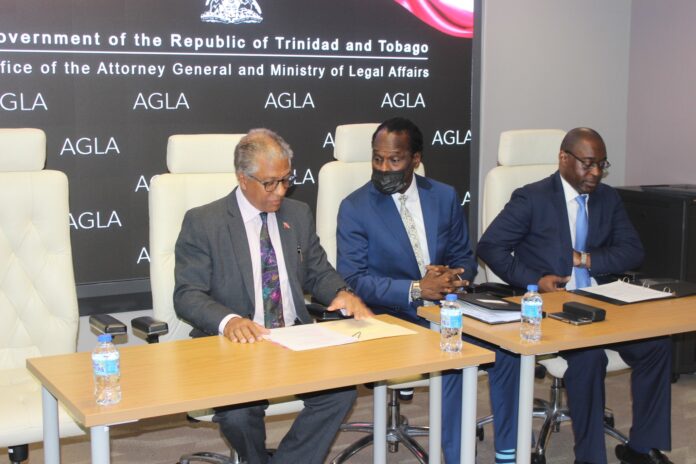 Trinidad and Tobago: Attorney General Senator Reginald TA Armour SC delivered opening statements at the launch of the "Anti-Corruption in the Public Sector" training being funded by the United States Embassy and the State's Bureau of International Narcotics & Law Enforcement Affairs Department on Monday, December 12, 2022.
This training is being hosted by the Attorney General and Ministry of Legal Affairs Office (AGLA) and is in collaboration with the United States Embassy and the FBI LEGAT team, and the Criminal Justice Unit (AGLA).
Over the next five (5) days, representatives from the Trinidad and Tobago Police Service, the Integrity Commission and the Police Complaints Authority will be exposed to real-world examples of different levels of public corruption investigations, followed by proven investigative strategies that can be incorporated into their respective functions. This training aims to enhance Trinidad and Tobago's national authorities and other stakeholders' capacity to effectively prevent and investigate public corruption and is fully endorsed by the Honourable Attorney General.
Also in attendance and delivering remarks were Minister of National Security Fitzgerald Hinds MP, Deputy Chief of Missions, US Embassy – Shante Moore and Farzana Nazir-Mohammed- Director Legal, Criminal Justice Unit.
Earlier, the office of the Attorney General and Legal Affairs Ministry informed that the High Court had granted interim relief in the form of an injunction in favour of Claimant Griffith, who initiated civil proceedings against members of the National Security Council, Prime Minister and others. The injunction restrains the PM from laying an executive summary of the FUL Audit Report of the Firearms Audit Committee or any part thereof in Parliament.