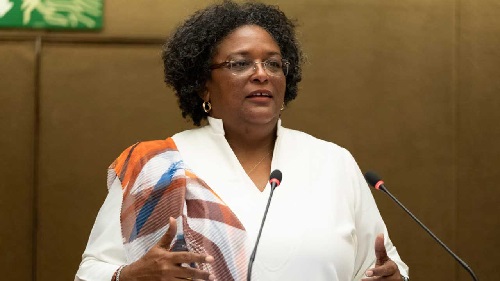 Bridgetown, Barbados: On the occasion of CARICOM-Cuba Day, Barbadian Prime Minister Mia Amor Mottley called on the United States administration to lift the economic embargo from the Cuban island. 
The prime minister further outlined the contribution of Cuba in the development of the Caribbean region, especially during the challenging times of the COVID-19 outbreak. 
PM Mottley cited, "Cuba's opening of its tertiary education facilities to the youth of the Caribbean, & its highly recognised eye-care programme Operacion Milagro, focuses primarily at seniors suffering from cataracts, have been of immense value for decades". 
She further highlighted the severe impact of the embargo on the GDP and lives of the Cuban people, which got worsened during the times of the outbreak. 
Following the statement, PM Mottley cited, "However, it is outreach to Barbados and so many other CARICOM neighbours, with nurses & doctors to join the fight against COVID-19, trumps all others. The depth of this gesture becomes even more apparent when we acknowledge that this was not a nation giving of its surplus but a neighbour helping neighbours while itself battling the same scourge". 
While the chairman of CARICOM Gaston Browne, during his message noted that the symbolic and bold historic act of Barbados, Guyana, Jamaica, & Trinidad and Tobago has grown over the past years into a productive and mutually profitable relationship. 
Speaking on the efforts made by the Cuban government, the chairman asserted, "With regard to the latter, the provision by the Government of Cuba of public health personnel to Caribbean countries to strengthen their response capacity in addressing the public health challenges of the COVID-19 outbreak, is a striking example of Cuba's continuing solidarity in the face of its own challenges, arising from the longstanding and universally-condemned US embargo". 
He furthermore added that CARICOM member states put great value on the strong and enduring bonds with the island of Cuba.