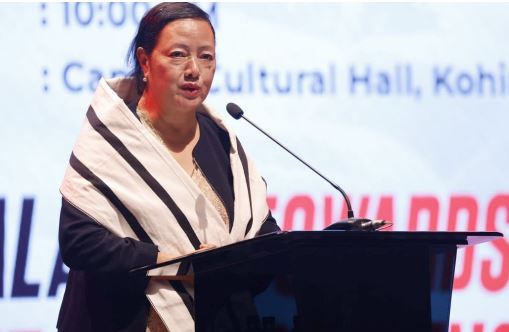 Nagaland, India: On March 7, Salhoutuonuo Kruse wrote history when she was sworn in as Nagaland's first female minister. Kruse served in NGOs for 24 years before taking the oath of office as a minister in front of Nagaland Governor La. Ganesan during the swearing-in event for the newly formed government headed by Chief Minister Neiphiu Rio.
Under the Nationalist Democratic Progressive Party (NDPP) ticket, she won the election from the 8th Western Angami Assembly Constituency on February 27, 2023.
Kruse expressed her joy at being appointed as a cabinet minister.
She spent 12 years (four terms) in the Angami Women Organization (AWO), serving as president, vice president, advisor, and joint secretary.
She worked for the Angami Public Organization as well (APO).
Er Kevisekho Kruse, her late husband, ran for office as an NDPP candidate in 2018; however he was unsuccessful. She claimed she wished to realise her husband's dreams.
Her birthday is December 15, 1966.
She contested the election under the slogan "Change for equitability & good governance," with the goal of enhancing the quality of life for all citizens by promoting good governance, peace and security, youth and women empowerment, skill development, and employment, as well as building a role model constituency for the equitable delivery of developmental activities.