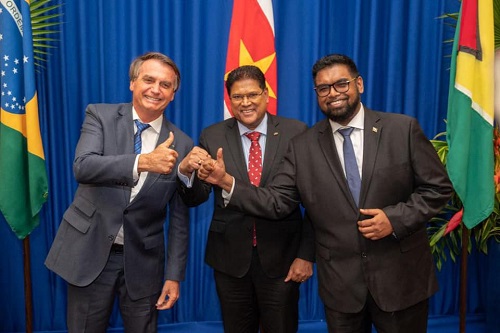 Georgetown: President of Guyana, Dr Irfaan Ali, met with the President of the Republic of Suriname, Chandrikapersad Santokhi and the President of the Federative Republic of Brazil, Jair Bolsonaro, on January 20, 2022, at Torarica Hotel in Paramaribo. Guyanese Head of the State is on an official tour to Suriname to hold significant discussions on numerous matters with Suriname's and Brazil Presidents.
President Ali held discussions on various ways to enhance cooperation with the countries in different sectors, such as – trade, energy and infrastructure. Moreover, talks between the countries will be advanced at the ministerial level in the forthcoming months.
This official meeting will surely benefit the nations in strengthening their bilateral ties with each other. Meanwhile, Presidents of Brazil and Suriname are expected to travel to Guyana for a one-day official visit with high-rank government authorities of the Caribbean island.
On his official tour, the Head of the State is being accompanied by Minister of Agriculture – Zulfikar Mustapha; Minister of Foreign Affairs and International Cooperation – Hugh Todd; Minister of Public Works – Juan Edghill; Minister of Natural Resources – Vickram Bharrat and Head of Go-Invest – Dr Peter Ramsaroop.
Bilateral relations between Guyana and Suriname:
Both of the countries share a long-withstanding friendship and bilateral ties, sharing many geologic, cultural & historical similarities, as well as their distinct position as West Indian communities alienated from the rest of South America. Although, the relationship between both the nations evolved with time, getting more stronger.
Guyana bilateral ties with Brazil:
Brazil provides military assistance to the Caribbean island via warfare training and logistics. Under the new South-South foreign policy of Brazil, the country aims to strengthen South American integration, and its bilateral ties with Guyana has improved a lot. In the meantime, several cooperation agreements have also been penned down by the government officials of both nations in order to foster trade.