The Commonwealth of Dominica is a beautiful island in the Caribbean region with mesmerizing landscapes and intriguing lakes, waterfalls, and national parks. Dominica is considered a paradise for travellers, tourists, divers, hikers, and naturalists.
Stunned by its beauty, thousands of people across the world plan their visit to the Caribbean island, offering the visitors the best and most memorable trip with five-star amenities. The island features lush rainforests, waterfalls, lakes, gorges, rivers, steamy hot springs, and the highest mountains in the Eastern Caribbean.
The fascinating destination is home to nearly a hundred rivers, noting which a phrase is famous among the Dominicans as well as the tourists, that is 'River for every day. If you are a nature lover and seek peace sitting in between the beautifully peaceful forests, right to your loved ones, then yes, Dominica is the place for you, which offers you one of the best life experiences, whether its food, culture, amenities, breath-taking landscape views and also one of the best hospitalities.  
Name of a few famous Dominican rivers for their history and magnificence are – Layou, Indian, Pagua, Hampstead, Taberi, White, Barry river and numerous others. 
Dominica's charm, beautiful beaches and eco-friendly tourism are the other things that attract the attention of travellers or tourists around the globe. The peaceful and halcyon sounds of the waves at the beaches are what one desires and gets at the astonishing mesmerizing beaches of Dominica.  
Some of the beaches which are must-visit for a person during their trip to the Caribbean island are: 
SOUFRIERE BAY

CHAMPAGNE BEACH

SCOTTS HEAD MARINE RESERVE

POINTE BAPTISTE

BATIBOU BEACH

NUMBER ONE BEACH 

COCONUT BEACH

DOUGLAS BEACH

PURPLE TURTLE BEACH 

MERO BEACH
Not only this, but the island is also quite rich in its incredible diversity and variety in its fruits and vegetables. One of the famous dishes is the "Mountain Chicken". It sounds like it is a delicious chicken item, but do not get confused with the name.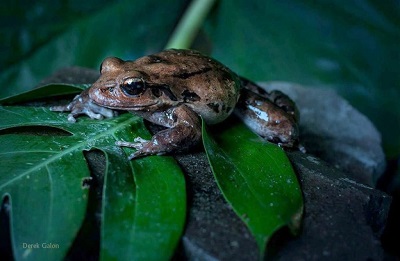 Leptodactylus fallax, commonly known as the mountain chicken or giant ditch frog, is a critically endangered species of frog that is native and found only in Dominica. The frog population has been decreased by around over 80% in the past years. 
Besides this, the island has also been conferred with the title of the 'safest destinations to visit" by the overseas UK-based world's largest government advisory and marketing firm, CS Global Partners. 
The jaw-dropping beauty of Dominica cannot be described or expressed in words. Passengers often plan their trip via cruise ships, while the majority of the tourists arriving on the Caribbean island are from the United States.
 It will be true to define Dominica as the beautiful secret place of the Caribbean.