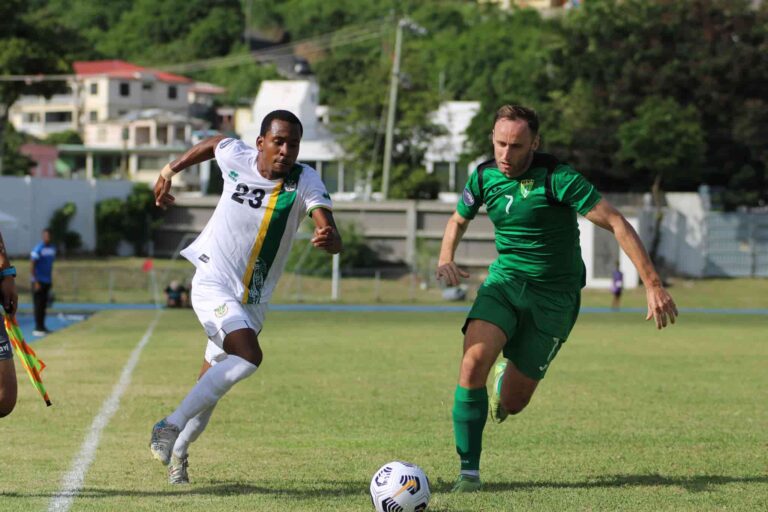 Dominica won against the British Virgin Islands at the A.O Shirley Recreational ground in Tortola to advance to League B of the Concacaf Nations League on Thursday, 16th November 2023.
The Starting XI of Dominica:
– Centre Forward: Travist Joseph
– Right Winger: Javid George
– Left Winger: Troy Jules
– Centre Attacking Midfielder: Audel Laville
– Midfielder: Briel Thomas
– Midfielder: Fitz Jolly
– Left Back: Jarvis Humphreys
– Right Back: Marcus Bredas
– Centre Back: Eustace Marshall
– Centre Back: Erskim Williams
– Goal Keeper: Glenson Prince
Glenson Prince led the team and Ellington Sabin was the Coach of the team.
The Starting XI of the British Virgin Islands:
– Daniel Gilford
– Miguel Marshall
– Jaden Abrams
– Taylors Scarff
– T' Shame Gallimore
– Philip Nelson
– Luka Chalwell
– Carson Price
– Tyler Forbes
– William Green
– Kristian Javier
The team was captained by Kristian Javier and the team's head coach was Chris Kiwomya.
Till the halftime break, the players of Dominica created multiple chances for goal. In fact, Right winger Javid George came the closest, hitting the woodwork. However, the nature island's players couldn't break the deadlock and both the teams were locked at 0-0.
In the second half of the game, Audel Laville finally got the breakthrough in the 52nd minute of the game and scored a goal for his team, putting Dominica in the lead by one goal.
Dominica continued to maintain their pressure as they had a few chances as well to double their score, but they still couldn't convert their chance into an opportunity and missed a probability of scoring.
The British Virgin Island Player T' Shame Gallimore equalized the scores by scoring the goal for his team at the crucial time of the game.
The match became very interesting but Dominica kept up the pressure and Donte Warrington took a corner kick, which was headed goalwards by Marshall. Thus, giving Dominica the lead by 2-1.
Esustace Marshall scored the most important goal by heading home the match-winning goal.
Moreover, Dominica has made it to the top of Group C with seven scores in the points table with one more game left to play.
This win is an indication that Dominica will be promoted to League B in the next Concacaf Nations League.
The last match of Dominica will be against Turks and Caicos Island at the A.O Shirley Recreational Centre in Tortola on Monday, 20th November 2023.