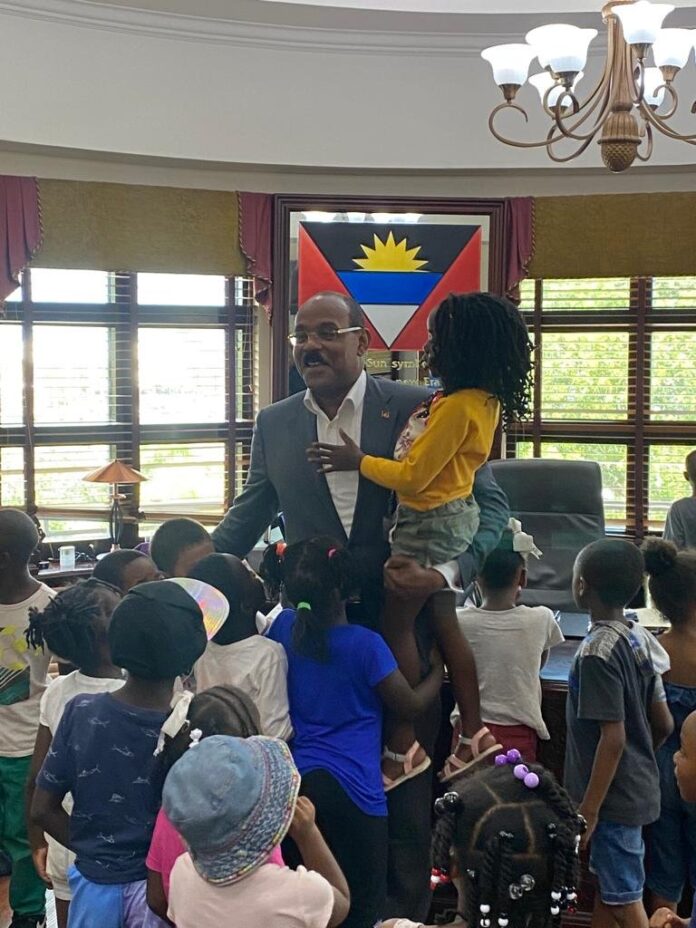 Antigua and Barbuda: Prime Minister Gaston Browne received a very special and cute surprise on August 18, 2022 (Thursday) at his office on Queen Elizabeth Highway by the students of the City West's annual summer camp.
The Office of the Prime Minister of Antigua and Barbuda informed, "75 children from the City West's annual summer camp made a surprise visit to Prime Minister Gaston Browne at his office on Queen Elizabeth Highway."
The enthusiastic young campers had the opportunity to interact with Prime Minister Browne and pretended to be him for the morning. Prime Minister Browne spent his Thursday morning showing the children his office and allowing everyone to sit in his chair and pretend to pick up calls and sign their names.
Questioning the young campers about their experience at the camp so far, many students reported that they enjoyed music lessons and sports time the most. Before bidding the children farewell as they made their way to Stingray city for the day, PM Browne reminded them that they could become Prime Minister someday once they remain focused, authentic, and hardworking.
This gesture of Prime Minister Gaston Browne was loved by the audience and general public of Antigua and Barbuda.
While praising and adoring the gesture, one of the social media users wrote, "This is so nice……… I Love it. The children is our future They must have been super excited…. well done." The other one mentioned, "Let them experience at an early age what it feels like to be a leader… Good job PM BROWNE," while the third one wrote, "Wow this is nice the children from City West Summer Camp went on a field trip and visited the Prime Minister office. This is cool."