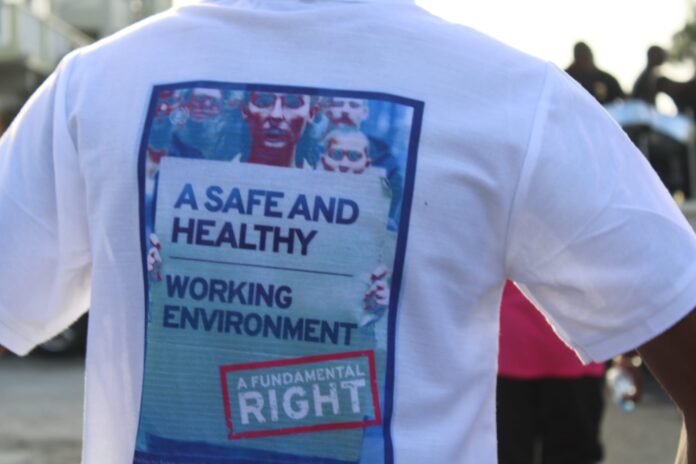 Georgetown, Guyana: The Ministry of Labour has informed that this year's Occupational Safety and Health Walk was another huge success, with over eight hundred participants taking to the streets supporting an activity that speaks to workers and employees implementing safety at work.
The theme for this year's OSH Month is "A safe and healthy working environment is a fundamental principle as well as right at work."
It stated that various public and private companies brought out their employees and even families as they gathered early Sunday morning at the forefront of the Labour Ministry on Brickdam to show support. The participants were welcomed by Joseph Hamilton, Minister of Labour, Permanent Secretary, Bishram Kuppen and departmental heads of the Ministry of Labour.
The ministry mentioned that other officials who were at the front of the walk were British High Commissioner to Guyana, Jane Caroline Miller (OBE) and National Advisory Committee on Occupational Safety & Health (NACOSH), Earl Morris.
After the walk, Minister Hamilton thanked the gathering for showing support for the importance of protecting workers' health and safety. He stated that the ministry would continue to educate employees and employers about safe work practices to reduce the number of workplace incidents and fatalities.
The ministry also stated that the Occupational Safety and Health department within the Ministry of Labour will be launching a series of programmes in April, including other walks across the country, radio interviews, and engagements with employees and employers in the Mining, agriculture, and other sectors.
Participants included representatives from the Ministry of Labour, Ministry of Culture, Youth and Sport, National Occupational Safety and Health (NACOSH), Guyana Civil Aviation Authority, Guyana Power and Light (GPL), Mayor, Guyana Telephone & Telegraph (GT&T), Exxon Mobil Guyana, National Insurance Scheme (NIS), University of Guyana, Centre for Local Business Development, Professional Guard Services, Georgetown Chamber of Commerce and Industry (GCCI), Farfan &Mendes, Eureka Medical Service, Macorp, Pritipaul Singh Investment Inc, ChampionX, Expro, Bureau of Statistics, SBM Offshore, Pacific Leopard International Trading Inc, SEACOR Marine, Guyana Women Miners Organization, TCL Guyana, AL Singh Enterprise, International SOS-Guyana Inc, Banks DIH, Guyana Geology and Mines Commission (GGMC), Guyana Water Incorporated (GWI), New GPC, TechnipFMC, Demerara Harbour Bridge Corporation, Massy Distribution Guyana Inc, and Guyana National Shipping.
The Ministry of Labour extended thanks to all stakeholders that showed their support at this year's OSH walk.