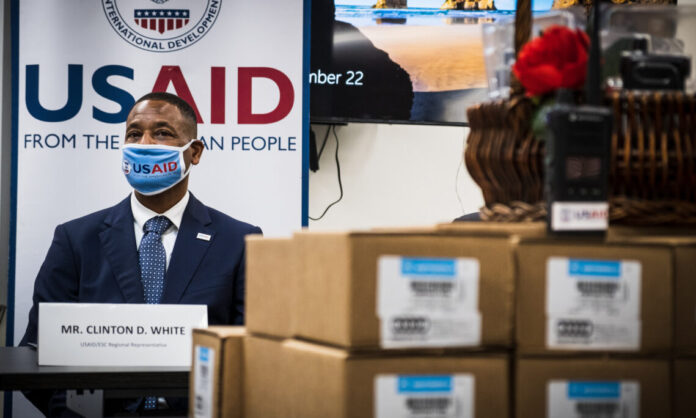 The Bahamas has received a health equipment donation worth – $255,000 from the government of the United States on November 22, 2021. The donation includes 12 specialized ambulance radios and industrial-grade high-capacity laundry equipment.
The USAID Eastern and Southern Caribbean Regional representative – Clinton D. White, on behalf of the US administration, handover the donation to the Bahamas' health minister – Dr Michael Darville, at the Public Hospital's Authority.
These ambulance radios will aid ambulance response to emergencies, and the laundry equipment will assist in increasing the capacity of Princess Margaret Hospital to clean and sanitize bed linens and uniforms.
USAID representative White during his address in the handover ceremony, stated, "I want to take this opportunity to acknowledge and salute the tremendous work that all the healthcare workers have been doing during this COVID-19 pandemic, including medical doctors, nurses, nurse aids, pharmacists, drivers, & clinic and healthcare assistants – thank you".
While, on behalf of the people of the Bahamas and its government, the health minister appreciated and thanked the donation provided by the US government and for its constant support during the tough times of the coronavirus pandemic.
Since the start of COVID-19, the United States government has provided medical assistance worth – $1.5 million to the COVID-19 response of the Caribbean island.
Not only the Bahamas but the other Caribbean and Latin American nations are getting support from the US government, including the donation of COVID vaccines.
Apart from White, US Embassy Acting Political/Economic Chief – Todd Sargent, President of The Bahamas Red Cross and Red Crescent Societies – Terez Curry, and Deputy Managing Director, Public Hospital Authority – Lyrone Burrows were also present at the handover ceremony.
Earlier this month only, the island received the second tranche of 134,550 Pfizer vaccine doses from the US government, which assisted in the COVID vaccination drive of the country.