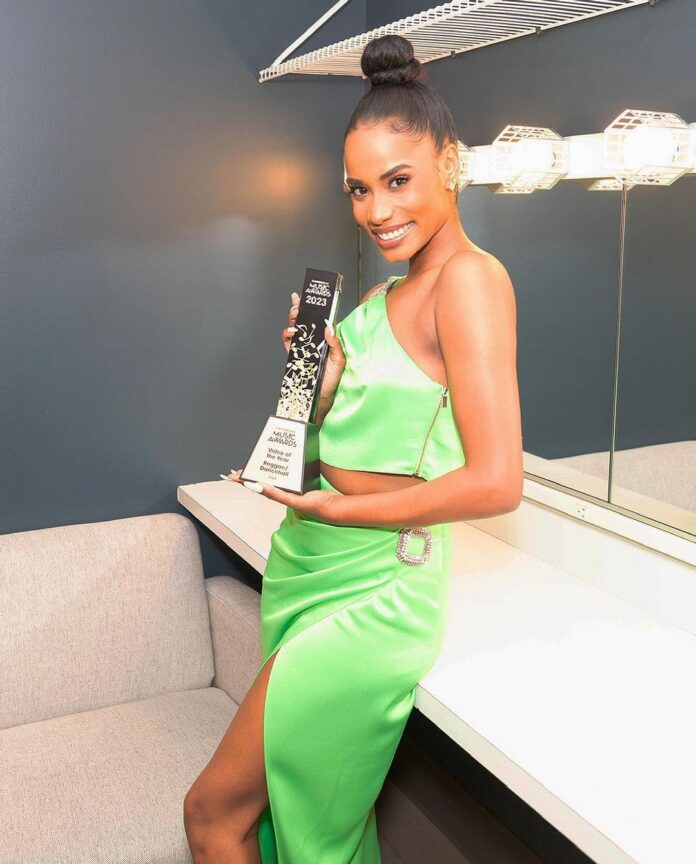 Toni-Ann Singh and Popcaan won Video of the Year at the first Caribbean Music Awards. Both artists won the title for their single 'Next to Me'. Miss World, a Facebook page, congratulated them for this achievement.
Toni-Ann Singh was the winner of the Miss World beauty pageant 2019, and Popcaan is known to be a renowned Dancehall artist. Through the latest post, Miss World shared a quote by Miss World 2019, which read, "Your dreams are not as far as you think." It also underlined that Miss World 2019, Toni-Ann Singh and Dancehall artist Popcaan are overjoyed at winning the Award.
The ceremony was held at King's Theatre in Flatbush, Brooklyn, on August 31.
Dance Hall Mag journalist Amaya Mc Donald reported, "Hosted by Grammy-winning artist Wyclef Jean, the show was a vibrant and spirited celebration of all music, people, and culture with roots in the West Indies," according to the details shared by the Facebook page.
Wyclef said, "Tonight is a very, very important night as we celebrate the Caribbean region. Tonight is history."
The winners were announced after the fans voted for their favourite songs, artists and music videos in Caribbean music genres including Soca, Dancehall and Kompa, among others. Generations of artists and fans danced together at the ceremony in celebration of the progression of Caribbean music.
While receiving her prestigious Award, Toni-Ann, along with other artists Dexta Daps, Kranium and Romain Virgo, performed a medley of Beres Hammond hits, including Step Aside, Rock Away, Double Trouble and I Feel Good. This was in recognition of Hammond receiving the 'Elite Icon' Award. These artists said, "Doing a tribute to him was one of the most amazing feelings."
Toni-Ann excitingly expressed her gratitude in her award speech, thanking her family and support system in New York and abroad. "Thank you to Nabille for the video", Toni enthusiastically said, "From the visuals, you can tell he loves Jamaica and that was so important to us and, of course, to Popcaan."
She goes on to say, "There are so many greats in the room! I can't go on and let this moment pass without thanking you. It is your determination and your perseverance that has led the way for a moment like this." Toni-Ann makes an inspiring point by saying, "If you have a dream, grab whatever you have right now, it will never be the perfect time…"
In the conclusion, the Facebook handle named Miss World stated, "Congratulations to Toni-Ann on her Video of the Year award! The Miss World Organisation wishes her every success in her career. Toni-Ann's achievement demonstrates the platform for future success that the Miss World contest can provide."
The general public and fans, as well as supporters of both artists, expressed their love and best wishes towards the artists for winning the Award. One of the social media users named Munesuishe Ernest Chikope commented, "Congratulations, Toni Ann Singh, forever Miss World 2019."
Another user named Dave Jonas wrote, "Big congratulations, Toni, you're so talented." The third user, Taieke Haughton, commented, "Congratulations Toni."