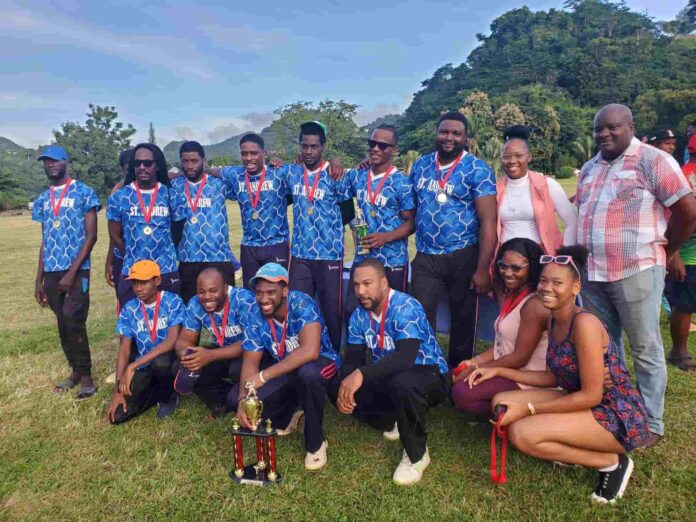 St. Andrew won the Independence Parish T10 Cricket Championship 2023 by defeating St. Patrick in the finals on Sunday at Botanic Gardens.
The match was began at 2:30 pm.
Toss Updates:
The toss was won by St Patrick and they decided to bowl first.
St Andrew batting:
St Andrew scored 101 runs with seven wickets down in 10 overs.
The star performer of the team was Vincent Lewis, who scored 49 runs, while the second-highest run-scorer for the team was Sherlon George, who scored 16 runs.
Clemenson Leblanc made 14 runs by not giving away his wicket.
St Patrick bowling:
The star bowler of the team was Kurtney Anselm, who took three wickets (hattrick) while just giving away one run.
St Andrew gave a target of 102 runs to St Patrick.
St Patrick's batting:
St Patrick scored 95 runs while giving away five wickets in 10 overs.
The team's maximum run scorer was Kurtney Anslem, who scored 46 runs.
Lex Magloire and Jahseon Alexander scored 19 and 17 runs, respectively.
St Andrew bowling:
Clemenson Leblanc took two wickets while giving away 15 runs.
Vincent Lewis and Kimani Henry both took one wicket each, giving away 7 and 22 runs, respectively.
Therefore, both teams faced each other in the final with the determination to win the Independence Parish T10 Cricket Championship 2023.
St Andrew won the match by seven runs.
The defending champions, St Andrew, defeated St George by four runs on Saturday to reach the finals. The match was conducted at Londonderry Playing Field.
Moreover, the match for the third place was also held on Sunday, 19th November 2023. The match for the third position was played between St Paul and St George at the Botanic Gardens.
Toss update:
The toss was won by St George and they decided to bat first.
St George batting:
The St George team scored 114 runs with two wickets down in 10 overs.
Sylver Timothy was the highest run scorer of the match, with 67 runs not out.
Navin Patil scored 42 runs.
They gave St. Paul a target of 115 runs in 10 overs.
St. Paul batting:
Jerlani Robinson and Casimir Benjamin were both close to scoring a half-century each when they lost their wickets in 48 and 41 runs, respectively.
Jervon Raphael remained not out and scored 16 runs.
St. George bowling:
Shyerwin Labassiere managed to take three wickets, giving away 21 runs.
Thus, St. Paul beat St. George by seven wickets.