The Monkey Buffet Festival of Lopburi, Thailand, is one of the most famous festivals around the World. This festival portrays and signifies the beautiful relationship between humans and animals.
The long-tailed macaque, which is also known as crab-eating macaque, is an indigenous species of Southeast Asia. These monkeys are found in greatest numbers in Lopburi, which is one of Thailand's old cities.
The festival not only showcases the vibrant culture of Thailand but also highlights the deep-rooted connections between India and Thailand, as Lord Hanuman is said to be the main deity of the festival.
Why is this festival being celebrated?
The long-tailed macaques in Thailand are highly respected and worshipped because of their sacred connection to Lord Hanuman. This led to an increase in their population and the attraction of tourists, which makes tourism a vital source of income for the locals.
In 1989, hotelier Yongyuth Kitwattananusont came up with the idea and with the support of the Tourism Authority of Thailand, he launched the Monkey Buffet Festival in 2007. This unique celebration takes place on the last Sunday of November every year.
Preparation of the festival:
The Monkey Buffet Festival is an enchanting event that takes place in the ruins of Phra Prang Sam Yot temple in Lopburi. It's a vibrant and colourful feast laid out for the guest of honour, the long-tailed macaques.
These monkeys are believed to bring good luck to the area and its people. At the heart of the festival, a huge pyramid is made from more than four tons of fruits and vegetables.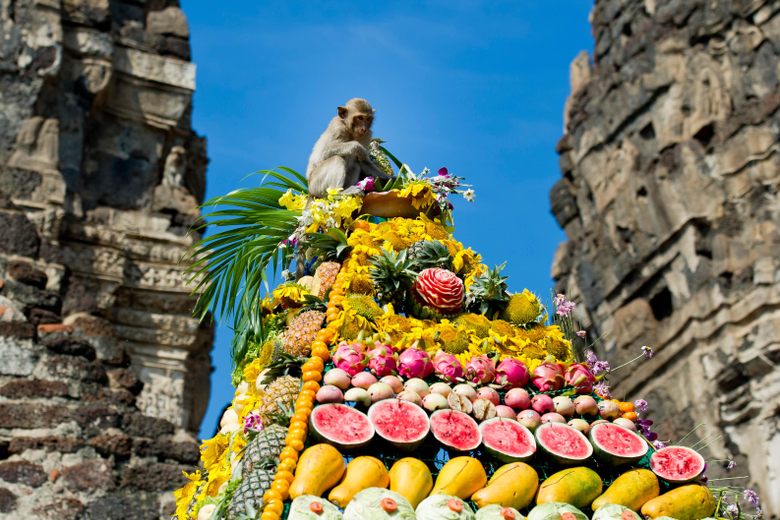 The fruits which are commonly included-
• Apples
• Bananas
• Watermelons
• Pineapples
How is it celebrated:
The Monkey Buffet Festival kicks off with a beautiful dance performance by dancers dressed in monkey costumes. This festive is celebrated throughout the city, and people wear masks and caps adorned with adorable monkey designs.
Colourful monkeys and vegetables are decorated and presented with a bounty of fruits and vegetables as the festival hosts unwrap the vibrant buffet. The monkeys make their grand entrance. Residents and tourists join in the festivities, dancing and singing. At the same time, the monkeys indulge in a delightful feast that includes not only fruits and vegetables but also various kinds of desserts, juices, candies, etc.
This festival has become one of the primary sources of income for the locals as it gives rise to tourism, which brings prosperity to the local community.