The World Creole Music Festival will be held from October 27 (Friday) – October 29 (Sunday), 2023, in Roseau, Dominica. This three-day festival will follow a 'Legacy' theme, offering homage to past festivals at the Windsor Park Sports Stadium in Roseau.
This unique festival has been held for more than twenty years in Roseau (the Capital city of the Island) for the enjoyment of viewers who enjoy music and performances from different Caribbean genres.
Price of the Tickets-
The price for the Nightly Tickets is EC $150 for the first and the third night (Friday and Sunday) and EC $200 for the second night (Saturday). The price for the season ticket is EC $400 (if booked before) and EC $450 (at the gate). Tickets will be on the official website- https://dominicafestivalss.com/wcmf-home/.
These tickets can be purchased locally from Water's Edge in Portsmouth, Depex Color Lab in Roseau and, Bullseye Pharmacy in Roseau, Portsmouth, and Grand Bay.
Lists of Performers for WCMF 2023 is as follows:
On Friday Night-
Popcaan
Michelle Henderson
DJ Stackz
Vayb
Triple K International
Patrice Roberts
A team
On Saturday Night-
Beres Hammond
Gordon
Asa Banton
Joe Boy
Ezra D' Fun Machine
Jiggy
Tabou Combo and more.
On Sunday Night-
Machel Montano
Jada Kingdom
Signal band
Midnight Groovers
Extasy Band, among others.
Dominica's World Creole Music Festival Roadshow
The Dominica Roadshow that takes place in Dominica every year is a series of events that advance the World Creole Music Festival. This year's Roadshow was held on September 30, 2023, which marked the beginning of the World Creole Music Festival.
The Roadshow was very overwhelming and outstanding. This Roadshow is also a way to promote the festivals and the culture of the place to a larger audience.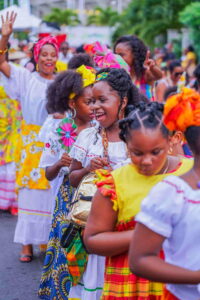 The audience enjoys music and giveaways from WCMF partners. The Dominican Roadshow features food, drinks, and activities for all the visitors.
Now, Dominica is all set to host this year's World Creole Music Festival and make it a huge success.