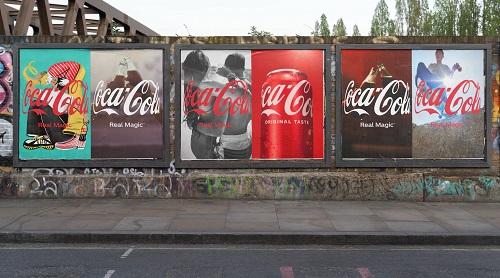 World: World famous beverage company Coca – Cola has changed its logo and its tagline to 'Real magic'. Described as the – 'hug' logo, the new wraparound appearance of the identity was inspired by its positioning on the packaging, including cans and bottles.
The new campaign was created by – Wieden + Kennedy London with KnownUnknown – a global network of independent talent brought in by Coke – to craft this visual look, including all the photography, animations and illustrations.
This is the first change for the brand in five years since the arrival of its Taste the Feeling tag in the year 2016.
The chief marketing officer – Manolo Arroyo, cited that, "We are at an inflection point. The past 18 months have disrupted every aspect of life & presented us with a 'once-in-a-generation choice to go back to a 'binary', black and white way of seeing this world and assist in making the 'world a better place to live'.
Arroyo further added that the Real Magic is about creating a 'movement to choose a more human way of doing things by – embracing unique perspectives.
The simple but these striking new posters, combined with the bold use of upbeat illustration and photography, is making the work more adorable.
This idea gives a different charming and connects more with the audience.
Coca-Cola Company is a 'multinational beverage corporation' incorporated under Delaware's General Corporation Law and headquartered in – Atlanta, Georgia.
The Coca-Cola Company has interests in the – manufacturing, retailing, and marketing of nonalcoholic beverage concentrates as well as syrups, & alcoholic beverages. The company produces 'Coca-Cola', the sugary drink for which it is best known, invented in the year 1886 by pharmacist – John Stith Pemberton.