Belmopan, Belize: Belize was certified as a malaria-free country by the World Health Organization (WHO) in 2023, following the country's continued efforts over 70 years to stamp out the disease.
Belize has had zero endemic malaria cases since December 2018 and continues to invest in the prevention of the re-establishment of malaria transmission.
Dr Tedros Adhanom Ghebreyesus- WHO Director-General, congratulated the government and people of Belize and their network of local and global partners for this achievement.
He further added that Belize exemplifies the dream of having a malaria-free future with the usage of the right tools and the right approach towards this step.
Belize became the second country in Central America and fourth in the Americas to become certified as malaria-free over the last five years, following Argentina, El Salvador and Paraguay.
The country achieved a milestone of success and became an inspiration for the other endemic countries in the Americas.
History of Malaria in Belize 
Malaria had always been a matter of concern in Belize until recently due to persistent population movements of migrants and locals who are working in the mosquito breeding sectors such as,
Construction
Tourism
Agriculture
Environment conditions
During the 1980s until the mid-1990s, the country suffered from thousands of malaria cases, which fortunately started to frequently decline afterwards.
The last mile initiatives
The last death due to malaria was acknowledged in 2006, and the last native case of malaria was reported in December 2018.
The country managed to maintain surveillance efforts all over the COVID–19 pandemic, especially on the borders with Guatemala and Mexico.
Belize maintained a malaria workforce in order to deliver prevention interventions and trained clinicians on malaria treatment.
Its malaria program's retention of dedicated vector control staff to assist the technical aspects of malaria control is identified by PAHO.
Belize's malaria programmes
In 2015, Belize recreated its malaria programme, which aimed to enhance the surveillance among high-risk populations and allow for strategic focusing of available resources and interventions in the priority areas.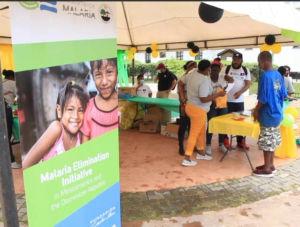 Belize continued to maintain malaria scrutiny efforts during the period of the COVID-19 pandemic and tried its best to consolidate COVID-19 and malaria monitoring systems.
Association at regional, country and global levels
National Malaria Programme and the Belize Vector Ecology Centre are working together to provide censorious information on the density and distribution of malaria-carrying mosquitoes. It also looks after the resistance to insecticides, which are used in malaria control.
Guatemala and Mexico have been a consistent support to Belize in their success.
PAHO and USAID have given technical cooperation throughout the anti-malaria campaign organised by Belize. The country's success contributed to PAHO's disease elimination initiative, which focused on banishing more than 30 communicable diseases, including malaria.